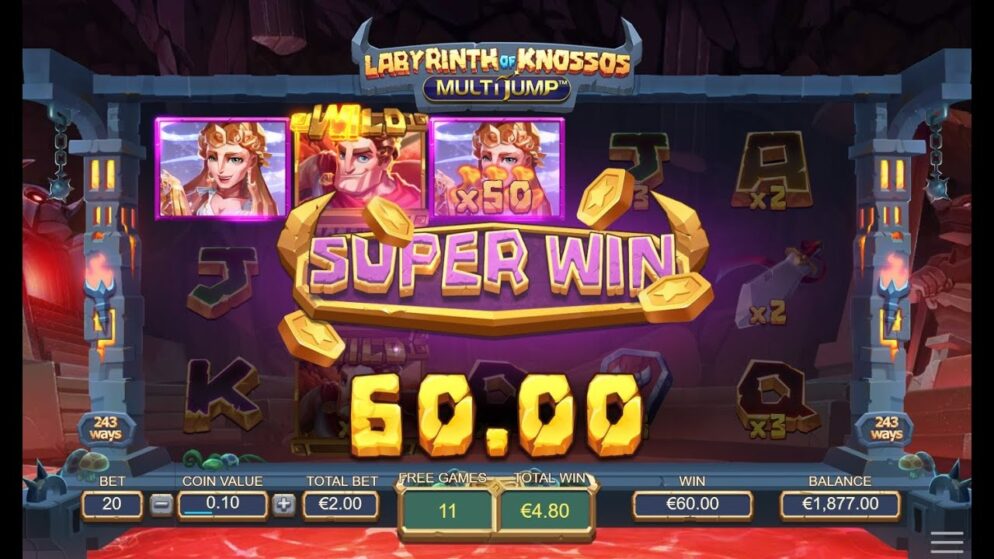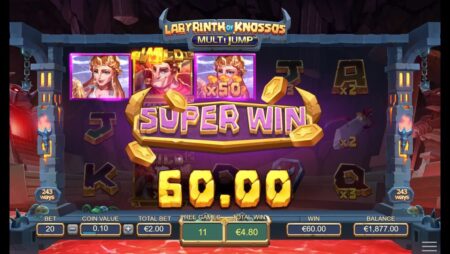 In February, Yggdrasil launched the Labyrinth of Knossos MultiJump slot. This is a slot produced by their content partner, Dreamtech Gaming, and features the interesting MultiJump mechanic for the first time. High volatility, 243 lines, RTP 96.42%.
The Labyrinth of Knossos Multijump slot machine from Yggdrasil Gaming has a 96.42% return rate, high variance, 5 spinning reels and 243 paylines. There is no bonus game, there are free spins, there is a Wild symbol, there is a Scatter symbol, and there is a multiplier. You can play the Labyrinth of Knossos Multijump slot machine in automatic mode, there is a "Fast spin" mode.
The main function of the novelty is in the multipliers. Any regular or wild symbol is randomly assigned a multiplier x2, x3 or x5. If there are several symbols with multipliers on the prize line, their values ​​are multiplied. The multiplier jumps from the first element of the combination to the last, hence the name of the MultiJump function.
Considering that the slot has 5 reels, the maximum you can get a multiplier of 3.125x only through MultiJump. It is then applied to the stipulated payout for the combination. During free spins, all ordinary and wild symbols come with their own multiplier, so the chances of a large multiplication increase significantly.