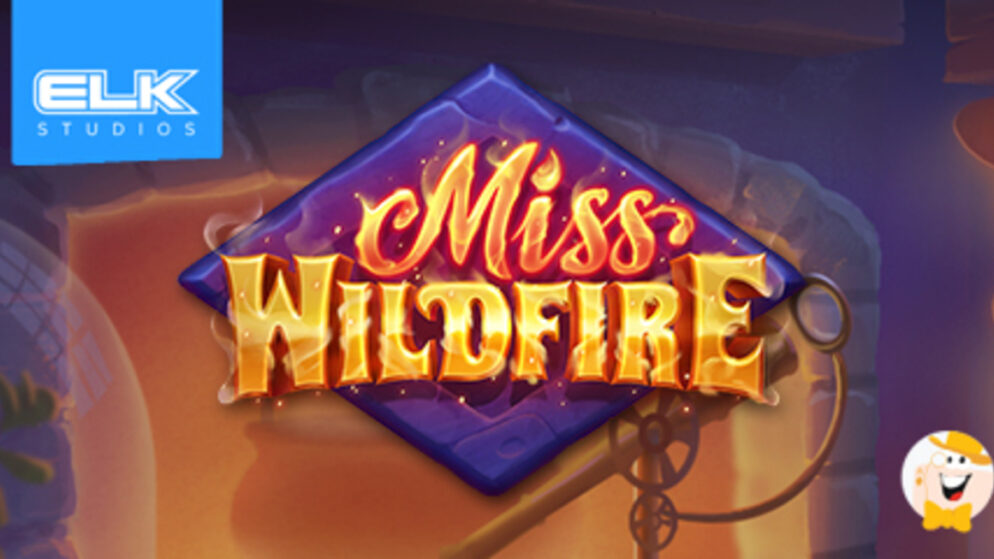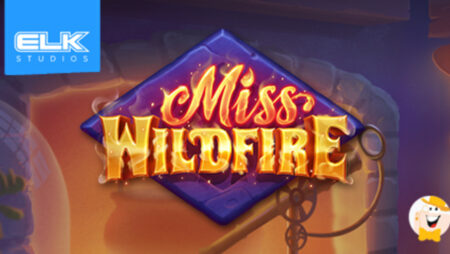 New from ELK Studios!
General information.
The slot has 6 × 4 reels, 466 paylines, and the maximum payout per spin can reach x5000 of the bet!
Functions and mode of the main game.
1. Winning combinations.
All paid symbols, regardless of cost, are played from 3 pieces.
2. Stacks of symbols.
Symbols can fall out in stacks, occupying up to a whole reel.
3. Wild symbol – general description.
Substitutes for any symbols other than Bonus symbols and has no value of its own.
4. Setting fire to a tree.
Wild sets fire to the Log symbol (the cheapest symbol), if adjacent to it.
Burning logs also become Wild symbols, setting other adjacent logs on fire.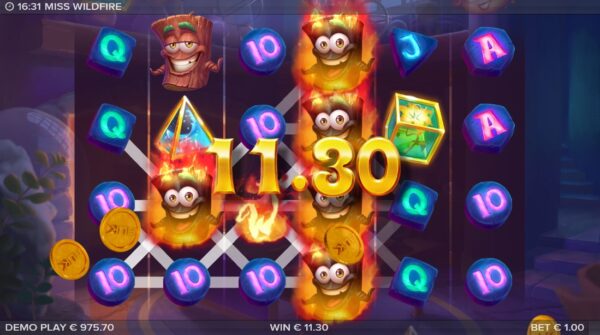 5. Miss Wildfire.
This symbol also functions as Wild and sets fire to the logs.
It moves from right to left until it reaches the leftmost reel.
During the Super Miss Wildfire movement, all reels with the Bonus symbol remain in their places.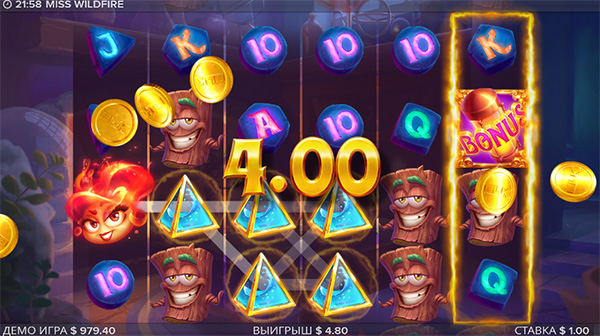 6. Suoer Miss Wildfire.
Such a symbol, in addition to all other functions, leaves non-burning logs in place.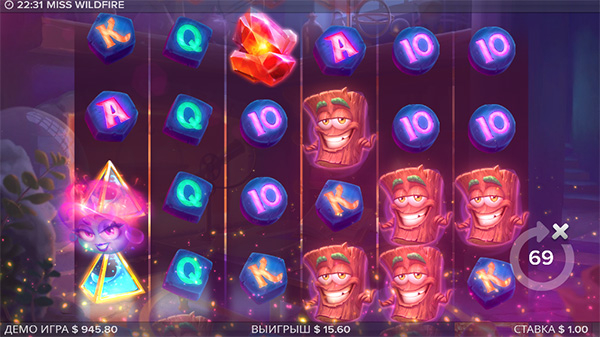 Bonus game mode.
1. Launch.
The bonus game starts when 3, 4, 5 or 6 Bonus symbols appear.
2. The number of free spins.
The number of free spins is 7.
3. Initial Miss Wildfire.
The initial Miss Wildfire in the bonus game mode depends on the number of the dropped Bonus symbols:
3 Bonus symbols = 1 Miss Wildfire.
4 Bonus symbols = 2 Miss Wildfire.
5 Bonus symbols = 3 Miss Wildfire.
6 Bonus symbols = 4 Miss Wildfire.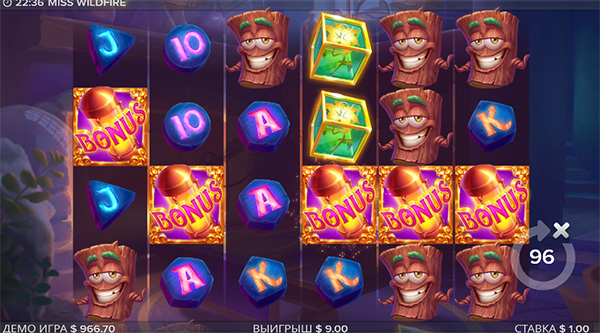 4. Collecting symbols.
Each fallen Log symbol is accumulated in a special scale on the right side of the slot.
Each step of accumulation turns low-cost symbols into logs, which increases the chance of getting all reels occupied by burning Logs.
The transformation of symbols occurs sequentially: 10, J, Q, K, A.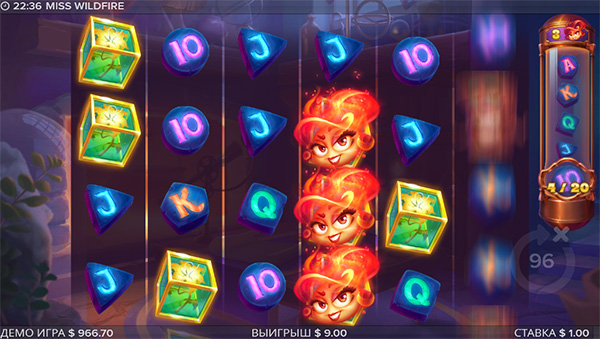 5. Additional free spins.
Each transformation of the symbol will award a new run on the reels of the Miss Wildfire symbols.
Technical information.
Paylines: 466
Maximum payout per spin: x5000 – manufacturer's limit
Release date: 02/02/2021
Opinion.
Despite the fact that not all lines play on 6 × 4 reels, but only 466, the slot has an interesting mechanic of turning the cheapest symbol into Wild!
In addition, it is worth noting the good musical accompaniment of Miss Wildfire.
All the reels occupied by the burning lines, I award a win of x4660 from the bet, that is, almost the maximum possible payout of the slot.